When it comes to increasing brand awareness, raising customer footfall and increasing sales in your store, events are the way forward. In today's retail climate, shoppers can purchase goods online in seconds, so physical stores have to go above and beyond to make sure they keep a competitive edge over their digital counterparts.
Hosting events at your store not only provides a unique offering for your customers, but it also offers you the chance to build a community out of your customers. Events allow you to engage in a way that online store's do not.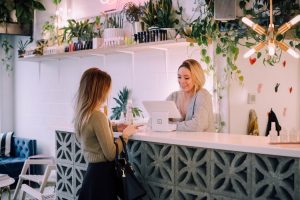 There are several different event options that you can choose,  the most popular being launching a new product. Other options include setting up a pop-up shop inside or outside your store, holding classes and taster sessions. The possibilities are varied and proven in terms of success.
Product Launches
Here at Crown Display, we know how successful product launches can be. Most recently we've seen the impact that the Greggs vegan products have encouraged, and we've personally worked on the designs for the EOS lip balm launch recently, which saw big names such as Amber Gill (from Love Island), members of TOWIE and members of former seasons of Love Island attend.
With your product launch, it's important to get creative with your store decorations., This may include fitting bespoke shop shelving that aligns with the product branding and lets you store extra stock ready for the influx of sales during the launch. Treat it as a proper celebration, serve drinks and nibbles. and give your customers an unforgettable experience that they'll always relate to the product that you're launching.
These types of launches have risen in popularity, inspired by the fashion world where new clothing lines receive a whole fashion show to celebrate them. It's clear, however, that not all products can be taken down a catwalk, so in-store samples are the next best option.
Pop-Ups or Pop-Ins 
These two options depend entirely on the size of your store. If you have a large space, a 'pop-in' shop can be a creative way to entice customers into the store, the pop-in acting as an event in itself. Plus, this will keep your store feeling fresh to the customer's eyes as the layout of the store will change accordingly to allow the pop-in to fit.
Likewise, if you don't have the room for that, hosting a pop-up shop outside your store can be just as, if not more so, effective. Drawing footfall off the street into the pop-up and then, into your store accordingly.
To make pop-ups or pop-ins more accessible financially, we offer affordable, bespoke retail shelving hire. available in a multitude of colours with plenty of accessories to go with them. We'll deliver, set up, take down and remove too, giving you more time to focus on all the other details of the launch. Plus, if you are looking for something bespoke, we require 10 working days to ensure that this is with you in time, however we are aware of how important deadlines are so do get in touch on 0800 587 5880 to discuss your needs.