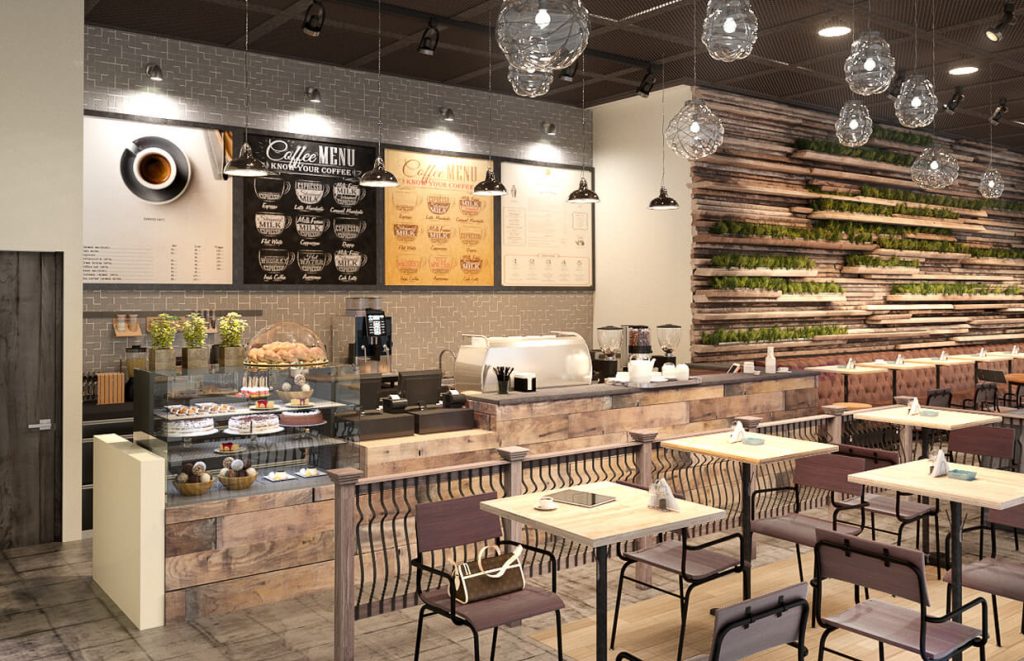 Whether you are a new place to eat in town, or have been established for a number of years, you will have considered and checked off all the obvious:
Location – street corner, shopping mall, rural farm shop, prime high street position
Exterior – reflecting the interior, welcoming, clean and inviting, suited to your location
Lighting – natural, ambient, accent, practical and decorative
Interior – aesthetics, colours, materials, target market
Balance – functionality and layout, space and practicality
Slatwall, mesh grid panels, rustic, vintage and industrial style displays are a popular choice for café decoration and space utilisation when considering the interior and the balance of a café, your lighting style should compliment your fixtures and fittings.  The versatility of Slatwall panels makes them a particularly good choice for functionality and with such a wide range of timber and coloured finishes available, they can be featured throughout your café giving your clientele a warm, comfortable and welcoming place to eat.
With the warmer weather approaching many cafes, coffee shops, and bistros are looking to make use of the potential 'add-on' sales and maximising profit.  People love socialising outdoors in the sun, with a cake or snack, a coffee and a sandwich, sometimes even a full meal, so why not think about adding a 'wheeled' cart like this one? It's sturdy, practical and mobile so can be easily repositioned and wheeled outdoors!  Use it to display jars, jams, cakes, chutneys, or to hold other small condiments and snacks.  It's also useful to increase the welcome factor or 'kerb appeal' by displaying brightly coloured plants, fruit and other potential merchandise.  If you have a 'theme' these types of shelving displays can be used to up-sell related products like crockery and giftware.
If you need something a little closer to the counter for displaying jam and butter portion packs, napkins, cutlery or items you need to keep an eye on for security reasons, or if you just prefer something fixed to make use of some empty space inside your coffee shop then consider a bakery/health food style display unit, a tiered unit with baskets or crates, slatted shelves and some are even supplied with plinths and chalkboards for a rustic feel.
Many cafes have diversified into holding events like a 'knit and natter' or a monthly 'get-together', allowing community organisations the use of their café space in return for a small fee and the added sales.  Some have a children's corner with a selection of books and toys whilst others have targeted a more niche market like students by supplying internet access and free to use pc's, or animal lovers like the recently popular 'cat' cafés and, of course, not forgetting the well-known 'Hard Rock Café' dedicated to a love of all things rock music which can be found in prime locations across the world.
Here at Crown Display we have a wide range of display items particularly suited to coffee shops, feel free to have a browse around our website and give our friendly team a call if you need further assistance.