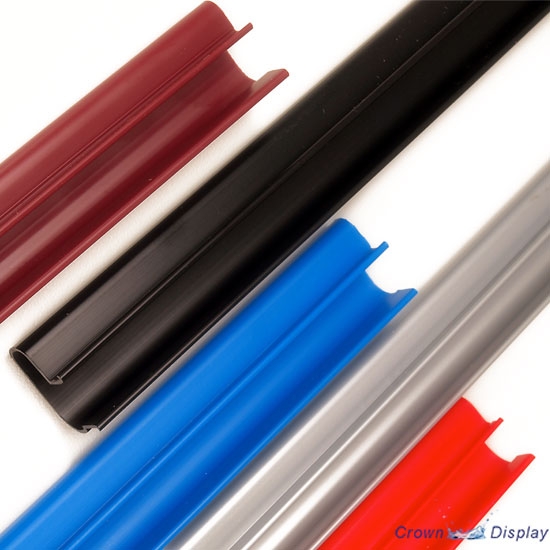 DESCRIPTION
PVC inserts are an essential accessory for your slatwall panels, both practically and cosmetically. Cosmetically, they hide the raw unfinished board which can be seen inside the groove, hide the panel fixings, and as they are available in a large assortment of colours (including mirrored) they can be used to either contrast or compliment your business colour scheme. Practically, the give the groove edges additional support from hanging accessories, as well as giving a secure and wobble free fit. PVC inserts are easily fitted into the panel, clipping in from the front once your panels are on the wall.
Aluminium inserts provide all the benefits that pvc inserts do with the added benefit of adding strength. When using accessories such as shelves and hanger to display heavier items, Aluminium inserts will help prevent the groove edge from bending or bowing under the additional weight load, meaning your panels will look good and last longer. Aluminium inserts do have to be fitted slightly differently to pvc, sliding them into the groove from the edge of the panel.
COMPONENTS & TECHNICAL INFORMATION
New `Flexi GripTight` Inserts for Slatwall Panels
Easier to fit with Increased Weight holding.
Available as:

Coloured PVC clip ins
Coloured PVC with mirror strip
Aluminium

Prices are per set - 1 set fits 1 board (portrait or landscape 2400/1200mm)
DELIVERY
This item is available for Next Day Delivery. Delivery is free of charge when ordered with Slatwall Panels.
Please note image shown is for illustrative purposes only.