---
Useful information:
Slatwall Panels provide a cost-effective, versatile solution to enhance your product display. Whatever the nature of your business slatwall is an excellent option for any retail outlet - durable and attractive; it offers a decidedly professional, yet highly effective platform for product presentation.
We choose to sell only UK sourced high grade Slatwall. This reassures our customers & supports our reputation at supplying quality ethically produced shop fittings that are made to last.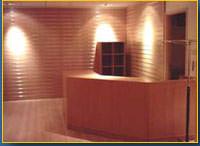 As well as being locally sourced, our slatwall is also ethically manufactured – this is a key aspect of how we work at Crown Display; all our materials are sourced from socially & ethically responsible providers that work with skilled local craftspeople wherever possible. Our principle philosophy is to offer products of outstanding quality at a fair price, and we work hard to ensure our customers can be guaranteed a slatwall panel that is strong, durable, and looks great, at the best price possible - without the risk of formaldehyde emissions (a toxic effect from low quality slatwall).
The difference between good quality slat boards and poor quality slatwall panels is visibly noticeable. However, if you're unsure before purchasing slatwall, visit the suppliers' premises, and ask for a slat sample. That way you can not only establish the quality of the slatwall being supplied, you can also reassure yourself that you're dealing with a reputable business. At Crown Display we are always happy to discuss the quality and sourcing of our slatwall panels.
As standard, slatwall is supplied as an approximate full size 8'x 4' or half size 4' x 4' panel. However, we can cut the boards to any specific slat size for you; usually at no extra cost. We can also change the standard 100mm slatwall pitch (distance between grooves) to 50mm or 75mm or groove gap of your choosing.
Many retailers find a neutral cream, grey or white finish to their slatwall works best in their store, but we do offer a wide range of alternative finishes; including wood grains, such as beech, oak and ash, for an especially welcoming atmosphere, and brightly coloured finishes for a more dramatic display, such as deep blue or vivid yellow. For the ultimate effect, we now also offer Silver slatwall as well as Acrylic Mirrored panels.
Our selection of
Coloured PVC
and
Aluminium
inserts will enhance your slatwall panels cosmetically, as well as increasing weight load. Our new
Reflective Mirrored PVC Inserts
are particularly eye-catching! To aid installation and further enhance the display; try our range of
Profiles
– easily fitted and available in a variety of colours.
Once you've decided on the size and finish of your panels, browse our wide range of acrylic and mirrored chrome
Slatwall Accessories
. Appropriate for all kinds of products, we are bound to offer the attachments you need.
Meeting our customers' needs is what we do best at Crown Display; including next day slatwall delivery on most orders. So if you're looking for a quote, would like some friendly advice, or want to place an order, call us free on 0800 587 5880.
---
Our Best Selling Products
We have an extensive range of fixtures and fittings for retail outlets in all market sectors but over the years, our best sellers have been those that are common to shops of all types, across the United Kingdom. Our Slatwall panels and inserts are very popular with all of our customers, owing to our highly competitive prices and the quality of the panels produced by our UK manufacturing partner.
Another perennial favourite with UK store owners is our fantastic range of shop shelving, which includes standard wall bays, gondolas, perforated bays, and a range of compatible accessories. From glass shelving to chrome stacking baskets, we have everything you need. Whether you are just setting up shop or you have been in business for many years, you are sure to appreciate the great value products in this range.
If you are looking for specialist fittings designed to hold particular products, such as crisp bays, newspaper units, garment and card bays, you will want to check out the extremely popular selection of retail shelving for sale in our online store. All made to exacting standards and available via our express delivery service, the many high quality products in this section are sure to be of interest.