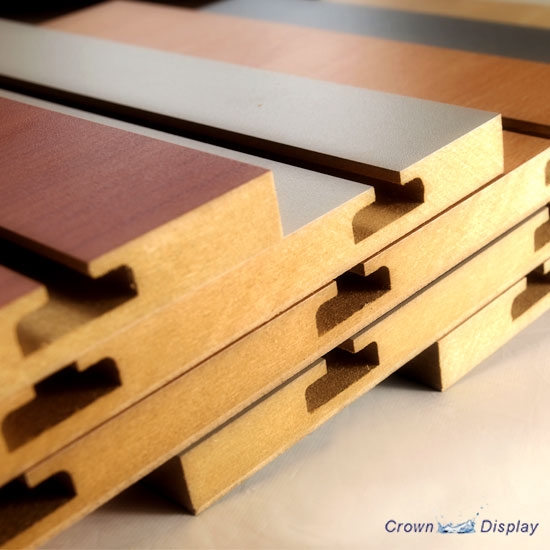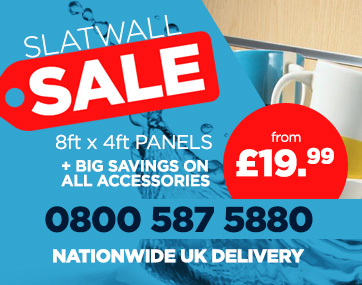 Slatwall panels measure approximately 8ft x 4ft and can be portrait or landscape orientation. Manufactured using ethical production methods, Slatwall panels can be used in almost any retail setting. They are finished with easy to clean, scratch resistant laminate and are available in a wide range of finishes. A large range of accessories are available including hooks, arms, acrylics, rails, glass and timber shelves.
We highly recommend the use of our Flexi 'Grip-Tight' pvc inserts for added stability for your accessories such has hooks, arms, rails and acrylics. PVC inserts are available in a variety of contrasting and complimentary colours. For timber shelves and the display of heavier products we recommend using aluminium inserts to protect your panels and merchandise. Aluminium inserts add strength and support to your panels, increasing their lifespan.
From golf shops to garden centres, slatwall panels is a uniquely versatile way of displaying your retail merchandise in an attractive and customer focused manner.
Slatwall Pitch: Our standard Slatwall panels are 100mm in pitch. This means there is 100mm space between the top of one groove and the top of the next groove. Panels are also available in 75mm and 50mm pitch, or a customised pitch and size of your choice.
We are happy to cut/trim and customise your panels to suit your needs, just give a call on 0800 587 5880.
Our new Slatwall Easy Hang Battens make hanging your slatwall panels easier, and you can enhance your slatwall display by using profiles such as end caps, corners and joining strips to hide those unwanted rough edges.
COMPONENTS & TECHNICAL INFORMATION
Full size 8ft x 4ft (approx) panels
Choice of finish
Flexi Grip-tight pvc or aluminium L shape inserts
100mm pitch
Other pitch sizes or custom sizes available
Genuine UK price guarantee
Next day delivery
Slatwall panels are delivered on a pallet, with a packing board top and bottom and banded for protection during transit. Please ensure you have scissors to cut the banding and assistance to offload the panels. Next Working Day Delivery available on most standard panels.
Delivery is based upon quantity and postcode, and is charged at cost (or less usually), please see Carriage & Deliveries for your Slatwall delivery charge

If you require further information or just a little help please call free on 0800 587 5880.